Add a

SPLASH

of colour to your kitchen!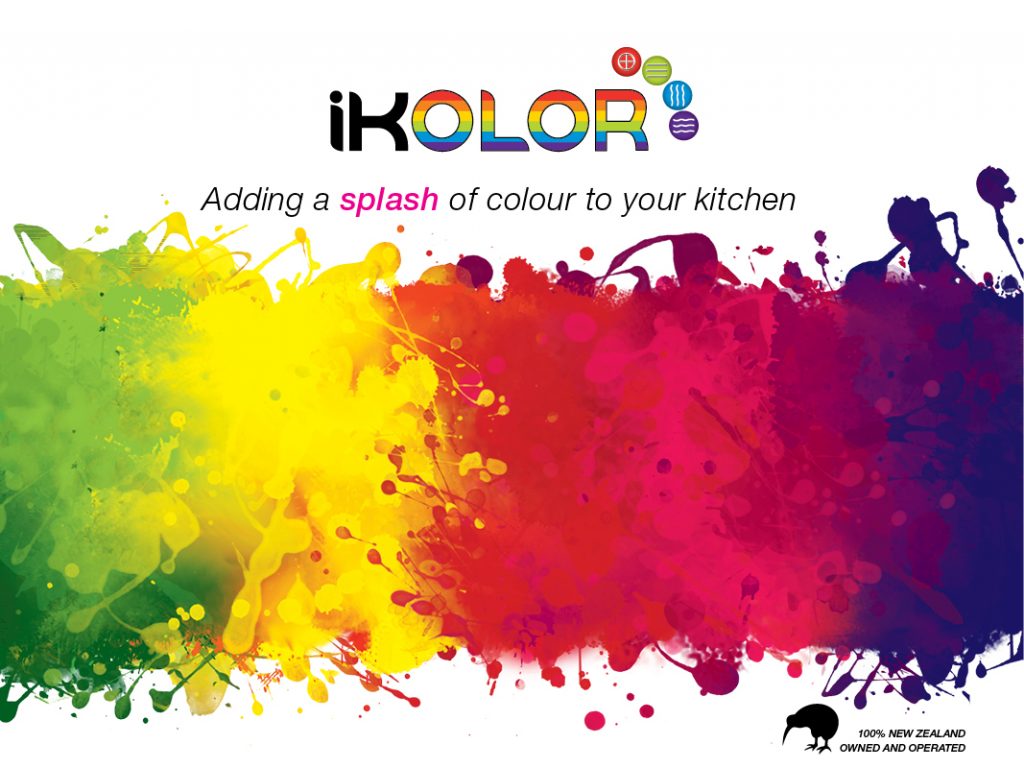 New Zealand's premium brand IKON® has just released it's Designer Series of coloured sinks manufactured right here in the Waikato!
During the initial development of Ikon's Arizona range of Charcoal coloured sinks, the New Zealand R&D team proceeded to identify and chase the Holy Grail of kitchen sinks. A sink that can be almost any colour and as tough as a traditional stainless steel sink. Investing significant into the process, Ikon has now formulated what it believes to be the most durable sink on the market in virtually any colour.
Importing the raw materials from all over the world, Ikon now blends and applies its own formula in New Zealand. This gives the consumer the choice of not only a specific colour but ANY model from the Ikon or Reginox range.
Creating a process offering the colour choice of powder coating, the aesthetics of PVD (commonly seen as offering colours such as Brass, Gold and Gun Metal) and the durability of traditional stainless steel has now become a reality.
or one of our AUTHORISED iKolor PREMIUM PARTNERS for a demonstration today!
NORTHLAND & AUCKLAND
Marmalade Kitchen Design (Auckland)
Phone 09-534 5196 or view them online
Stone Warehouse Ltd (Auckland)
Phone 09-415 0715 or view them online
Design Edge Kitchens & Cabinets (Whangaparaoa)
Phone 0210 2222 371 or view them online
The Kitchen People (Auckland)
Phone 09 424 3468 or view them online
Bespoke Project Ltd (Warkworth)
Phone 09 945 0559 or view them online
BAY OF PLENTY
Benchtop Top Shop (Rotoura)
Phone 07 348 4656 or view them online

Interior Fittings (Rotoura)
Phone 07 348 1041 or view them online
Design House Kitchens (Rotoura)
Phone 07 345 5807 or view them online
Vekart (Rotoura)
Phone 07 343 9000 or view them online
Riverstone Industries Ltd (Topworx) (Tauranga)
Phone 07 576 7554

Eastwood Kitchens (Tauranga)
Phone 97 544 8511 or view them online
Hostess Kitchens (Tauranga)
Phone 07 575 6042 or view them online
Baywide Kitchens (Tauranga)
Phone 07 552 5589
The Kitchen Zone (Tauranga)
Phone 07 578 0817 or view them online
The Kitchen Business (Mt Maunganui)
Phone 07 574 4527 or view them online
WAIKATO & KING COUNTRY
Barnwood Industries (Hamilton)
Phone 027 247 7657
Keith Vernon, Designer (Hamilton)
Phone 021 314 397 view them online

Woodvine Kitchens & Cabinetry (Hamilton)
Phone 07 858 4418 or view them online
Advance Joinery (Hamilton)
Phone 07 846 0026
McLuskie Joinery (Hamilton)
Phone 027 280 2266 or view them online
Hostess Kitchens (Hamilton)
Phone 07 847 3099 or view them online
Designer Cabinets (Hamilton)
Phone 07 849 3757 or view them online
Customtone Kitchens (Otorohanga)
Phone 07 873 8083 or view them online
Fine Woodworking (Te Kuiti)
Phone 07 878 6194 or view them online
CENTRAL NORTH ISLAND
Amuri Kitchens (Taupo)
Phone 07 378 2156 or view them online
Counter Concepts (Palmerston North)
Phone 06 355 5971 or view them online
Touchwood Joinery (Palmerston North)
Phone 06 329 2187
JS Kitchens (Palmerston North)
Phone 06 353 0745 or view them online
Reilly Joinery (Feilding)
Phone 06 323 3743 or view them online
H.R Jones & Co (Feilding)
Phone 06 323 7545
The Joiner (Foxton)
Phone 06 363 5119 or view them online
P & H Joinery (Foxton)
Phone 06 363 8893
Rovan Furniture Ltd (Levin)
Phone 06 368 6031
WELLINGTON
Well Hung Joinery (Wellington)
Phone 04 494 7230 or view them online
Kitchen Distinction Ltd (Porirua)
Phone 04 232 3600
Stylish Interiors (Wellington)
Phone 0800 278 954 or view them online
Trethaway Granite & Marble (Lower Hutt)
Phone 04 567 5198 or view them online
Kapiti Benchtops Ltd (Paraparaumu)
Phone 04 902 0311
SOUTH ISLAND
Living Design (Nelson)
Phone 03 544 1878 or view them online
Duncan Joinery (Temuka)
Phone 03 615 7327 or view them online
NC Design (2014) Limited (Christchurch)
Phone 021 240 9225 or view them online
Mitchells Kitchen and Joinery (Invercargill)
Phone 03 230 4934